How to Write Argumentative Essay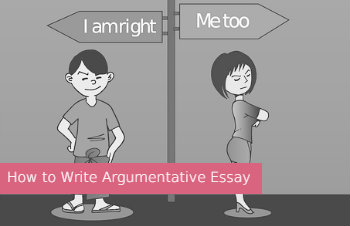 It seems that one of the favorite things of everyone in the world is to argue about something. It is not surprising as we all have our own beliefs and attitudes towards some particular phenomena. Sometimes the process of arguing is constructive. It is when both parties listen carefully to each other's arguments and try to get to the bottom of the problem. At other times people just yell at each other refusing to hear the arguments opposite to their point of view. The latter option never leads to a productive discussion and may end badly. Writing an argumentative essay is like having an imaginary polite conversation with a non-existing opponent. The main benefit is that you get to direct this conversation in the way that is beneficial to you.
Pick a Side
The question of how to write argumentative essay does not have to be an issue for you. Although there is plenty of information on the web, it is better to have the most important points gathered at one place. So, what do you start with when you need to prove your viewpoint? First, you need to have one. Choose a debatable topic and decide what you stand for. Put the arguments for and against the problem and analyze what side wins according to your subjective opinion. Then, you can start doing the research.
Don't Forget About the Enemy
The biggest mistake one can make during the research stage is to get focused solely on the points that prove their viewpoint. In his case, the imaginary conversation will look like a monolog of an angry person who does not care about anything the other party has to say on the issue. Do not forget about the existence of your imaginary opponent. Search for the counterarguments. What are the facts and figures which can weaken your argumentation? Do have supporting evidence to prove those to be wrong? Do not freak out if at some point of your searching for information you will have to switch sides. There might be some indisputable points that will make you change your mind in regards to the discussed issue. There is nothing wrong about that as long as you are comfortable with supporting that point of view.
Tell a Story
Keep in mind that every point you make has to include a convincing background. It is not effective to just state that something is good or bad. Provide the evidence and colorful examples. If there was an event in the past that shows the rightness of your position, include it in the paper. Every paragraph is a short story in which you draw examples and provide convincing arguments. Some of the most common approaches students take is to start a paragraph with a counterargument and then refute it. In that way, you will seem knowledgeable on the topic and brave enough to discuss the point your opponent may make.
Ask Others for Their Opinion
The chances are that your friends and family have a lot to contribute to the paper you are writing. They may have some unique points you can use to make it original and exciting to read. Ask them to reflect on the topic and give you feedback on what they think of your writing. It is always useful to get a second opinion. If there are some weaknesses of your paper you do not notice, it is better to know about them before turning it in to your teacher.
Stay Objective
This paper is not the place for your personal reflections on the subject. You should be objective and prove every statement you make with a sound support. This often happens when students choose some obvious and hardly debatable topics like "Human slavery is bad". Before committing to one of the possible topics' options, make sure there are enough arguments one can find to support both points of view - pro and con.
In case you encounter a problem during the process of writing, you have to know where to look for some help. This is the place where you are always welcome with any writing difficulties there can be. Our writers have already solved millions of problems our clients had. Yours will not be an exception.
Our unique features
100% Moneyback Guarantee
Plagiarism Free
Free revisions according to our Revision Policy
Free title page
Free bibliography & reference
Free formatting (APA, MLA, Chicago, Harvard and others)
24/7 Customer Support
Testimonials
Topic title:
American Literature
Discipline:
Transcendentalism of Ralph Waldo Emerson
The writer did a tremendous research and came up with really interesting points. Thank you, I'm glad I've used this service.
Discipline:
Social inequality of the 21st century
The paper looks impressive, thanks for the decent formatting. Will definitely come back to my writer again.
Discipline:
Nietzsche's influence on Carl Jung's ideas
I'm surprised that the paper turned out to be this good. The points made are logical and include some fresh ideas I haven't come across before. Good job!
Topic title:
World History
Discipline:
Possibility of the Third World War
I'm really happy with my paper. There was nothing I wanted the writer to change about it. Thank you for the help.
Read all testimonials